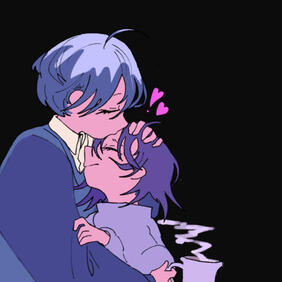 ---
important info
---
triggers & squicks
friends can ask.
dni
lgbtphobic, proshipper, racist, pedophile/ groomer, or just a shit person in general.byf
i say the f-slur & r-slur.
i don't tag my interests or comforts unless asked.
i struggle with tone, so please use tone tags w me.
let me know if i overstep any boundaries, i don't always know how close i am with others/ what's okay with them unless specifically told.
---
---
---
kins
---
main - very strongly identify with★ jay merrick (marble hornets)
★ jimmy hopkins (bully:se)
★ karkat vantas (homestuck)
★ shuichi saihara (danganronpa)
sans (undertale)
enderman (minecraft)secondary - strongly identify withhajime hinata (danganronpa)
spinel (steven universe)
legoshi (beastars)
steven universe (steven universe)
mikitaka hazekura (jojos bizarre adventure)
rohan kishibe (jojos bizarre adventure)
Yukako Yamagishi (jojos bizarre adventure)
ayano aishi (yandere simulator)tertiary - somewhat identify withgundham tanaka (danganronpa)
phoebe buffay (friends)
ash fox (fantastic mr. fox)
★ that's me lol
---
---
comforts
---
obey me: shall we date?
leviathan
beelzebub
luke
barbatoscreepypasta / marble hornets
jeff the killer(alt. versions)
slenderman(alt. versions)
tim wright (masky)jojos bizarre adventure
johnny joestar
stardust crusaders
bruno bucciarati
okuyasu nijimuratransformers universe
drift / deadlock
ratchet
bumblebee
fallout 4
maccready
nick valentine
hancock
paladin danse
travis miles
kent connollycomics
spider-man
deadpool
wolverine
nightcrawlermisc
the belcher family
megamind
enderman
princess peach
julian devorak
glamrock freddy
---
---
fictional others
---
♥ jonathan joestar (jjba) ♥︎
♥ jean pierre polnareff (jjba) ♥︎
♥ jotaro kujo (jjba) ♥︎
♥ optimus prime (transformers) ♥︎
♥︎ robert maccready (fallout4) ♥︎
♥︎ nick valentine (fallout4) ♥︎
♥ lucifer (obey me) ♥︎
♥ mammon (obey me) ♥︎
♥ lucio (the arcana) ♥︎
♥ muriel (the arcana) ♥︎
♥︎ brahms heelshire (the boy) ♥︎
♥︎ john hancock (fallout4) ♥︎
♥︎ paladin danse (fallout4) ♥︎
---